Are you a dance parent who is wondering what it will cost your daughter in the long run if she continues to work through foot and ankle pain?
We are now at the start of full competition season and unfortunately this is the time of the year where most dancers start to complain of pain that has been building up during the season and has increased with the push to finish and perfect choreography. In this article I will provide you with a brief overview of the most common dance related foot conditions that could be causing your pain.
Dance requires a combination of strength, power, endurance, flexibility, balance, and control in order to enable dancers to perform with such athleticism and artistry. The most common area to suffer dance related injuries is the foot and ankle. The reason for this is simple in that dancers put a lot of pounding through their feet whether it is through pointe shoes that require weight bearing through joints in the foot that were not designed tot be weight bearing joints or they are constantly pounding on their feet during tap dancing (my favorite form of dance).
The foot and ankle is made up of 26 bones all connected to each other by joints. There are ligaments that stabilize the joints and then there are many different muscles that muscle work in a coordinated fashion to allow you to plié or relevé with ease!
The first step to getting rid of chronic foot and ankle pain is to seek out a medical professional that specializes in working with dancers.  Understanding the biomechanics of dance as well as the demands of the "sport" is critical the decision making process of what to modify in class when you are recovering from your injury. A medical professional will help properly diagnosis your condition, however, the the key to fixing your problem is determining the root cause of why your pain started in the first place.  In the foot and ankle and especially with dancers, it usually comes down to either a mobility or stability issue at the ankle or the hip region.  For the remainder of this article, I will provide you with a brief overview of the most common dance related foot conditions that could be causing your pain. It is beyond the scope of this article to provide an in depth analysis regarding the diagnosis, prognosis, and proper treatment of each of these conditions. Please seek out a local medical provider to receive proper management of your pain.
Common Dance Related Foot Conditions
Ankle and Midfoot Sprains
Ankle tendonitis
Sesamoid Pain
Stress Fractures
The most common injury by far suffered by dancers is an ankle sprain or midfoot sprain. The ankle sprain is accompanied by pain on the outside of the ankle in a higher location than the midfoot sprain which is associated with pain on the outside part of your foot. This always occurs as the result of an injury in which you roll your ankle during landing from a leap or coming out of a turn. The keys to proper management is ruling out a fracture of your ankle by using the Ottawa Ankle Rules
Ankle tendonitis or the more appropriate term would be tendinopathy as we know that not all tendon problems that cause pain have active inflammation and hence ice and rest may not be the best treatment. The three most common tendons to cause pain in a dancer is the posterior tibial tendon (inside ankle pain), peroneal/ fibularis tendon (outside ankle pain), and the achilles tendon (back of the heel pain). These conditions are pretty true to their anatomy as pain location will help determine which you have. These injuries are usually the result of overuse and poor footwear, improper training ramp up before a competition, and muscle imbalances (either tightness or weakness) in the ankle and hip regions.
Stress fractures result in consistent progressive pain that builds up over time and is worse with weight bearing activities (dance!) but feels better when you are sitting or lying. This is a sign that you have ramped up your training too quickly and your bone is not strong enough to handle the increased load. These are important to diagnosis because they can create weakening of the bone and could result in full fractures with increased stress and load. Early detection is key to preventing excessive time lost out of the classroom.
Sesamoid pain results in pain on the bottom of the first toe and is very common in dancers due to the amount of time they spend in relevé. This is a chonic condition due to inflammation of the two pea sized bones located in the tendon under the ball of the foot in the big toe. Correct diagnosis is key to determining if you have a fracture of the bone, tendon problem (turf toe), or inflammation of the bone (sesamoiditis).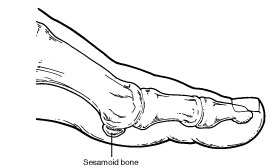 In this article I provided you with a brief overview of the most common dance related foot conditions that could be causing your pain. The keys to preventing and treating foot and ankle pain in a dancer is determining the proper diagnosis and then finding out what the root cause is that is contributing to your condition. Your problem may be a mobility or stability problem and will require specific exercises to address those areas in order to fix your current problem or prevent it from coming back.  Stay tuned for future posts relating to specific foot and ankle mobility and stability exercises you can do to keep you happy and healthy dancing doing what you love! Click here to go directly to my YouTube channel with dedicated playlist to all things dancer health and wellness related.
Are you a dance parent who is wondering what it will cost your daughter in the long run if she continues to work through the pain?
Have you seen other medical providers in the past that just tell you to stop dancing?
We have a unique treatment approach that focuses on solving these problems with our clients.
Our goal is to help keep your dancer active while recovering from injury by staying in the studio and guiding them in ways to modify their training, rather than eliminating dance!
We combine manual hands-on techniques with guided supervised exercises to help your dancer get stronger, pain-free, and perform at their peak level to get them back in the classroom and on the stage.
The SPARK Physical Therapy Commitment
No long waits or multiple trips to providers' offices every week. We see your dancer either onsite at your studio or in the comfort of your home when it is convenient with your schedule.
One on one for a full hour with your doctor of physical therapy, every visit.
We provide your dancer with a customized plan specifically designed for them, based off their unique injury and goals.
Full transparency in what you pay. You will never get a bill from us a couple of months after your visit.
Access and availability to you! Have a question about your dancer's pain or exercise program? Get an answer from your therapist directly.
If you're in the Wallingford, CT area and are a dancer that has been dealing with injuries we can help. We'd love to chat for a few minutes and see if you are a good fit for what we do. Fill in the contact request and we'll set up a free 10-minute phone consultation with a doctor of physical therapy
Thank you for taking the time to read,
Duane